On Friday I changed the birthday on the @GoSquared Twitter account.
It was set to 3rd February 1991. Correct date, wrong year. I thought "🧐 that looks odd" so changed the year to 2006 – the actual year we legally started the business (unlike 1991 which was the year I was born).
I received a warning saying "you can only change this a few times" – in itself a poorly worded error. Why can I only change it a few times, and what definition of "a few" are you going by, Twitter?
Either way, I thought this would all be fine. After all, why would I need to change the date again after this? So I went ahead and confirmed.
"Your account is locked."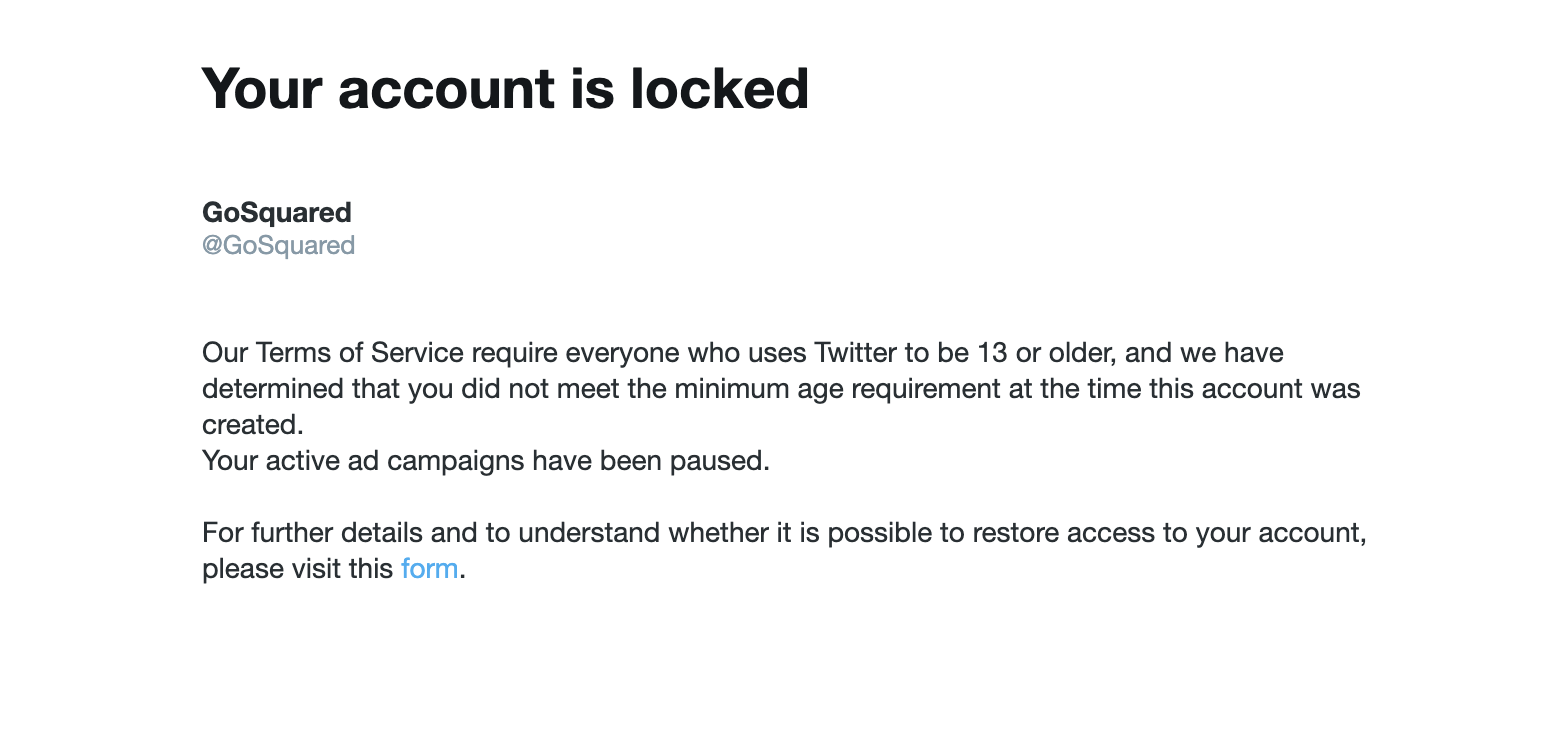 This was literally the next thing I saw. A blank screen with one link to a support doc. No buttons or options to undo the change, or change the date again.
What did this change cause?
It locked everyone out of the @GoSquared Twitter account – you cant read the timeline, you can't post, you can't do anything.
It instantly hid our profile so it didn't exist publicly – we didn't show up in search results, and if you went directly to the profile it just told you it didn't exist.
It paused our active Twitter Ads running – of which we spend a not-insubstantial amount of money on every month.
It cut our access to all related Twitter tools including the Twitter Analytics product.
Any Tweets mentions or quoting our own Tweets showed a lovely "This Tweet is unavailable" message.
We were deleted from Twitter.
All this, despite being an active user of Twitter since February 2008 with over 6,000 followers, being a verified Twitter account, and an active paying customer of Twitter Ads having spent many many thousands of dollars over several years.
To make matters worse, the issue arose at around 10:30am London time. I immediately took their recommended action of uploading a scan of my ID, and also submitted a support ticket to Twitter Support. I also reached out to the Twitter Business team via an email address they shared in previous communications. A number of people also mentioned @Twitter, @TwitterUK, @verified, and @TwitterSupport in various tweets to try to drive attention of the issue. We even reached out to any contacts we had at Twitter. But nothing.
Nothing until 8:30pm, and only after calling in a favour from a couple of very helpful people: @KeaneJoel and @Jonah.
I'm not writing about this to moan, I'm writing about this with the hope that no one else goes through the same stressful ordeal.
Don't change your birthday on Twitter.
Twitter – you have got to improve on so many fronts here:
This is very nearly the most destructive action one can take on their Twitter account. You have to make that clearer to the user at the point they are making the change.
Is there any such thing as a "business" account on Twitter? If there is then we don't appear to be aware of it, and the same rules around age should not apply. Not many businesses are legally old enough to use Twitter.
Keeping customers waiting 10 hours for a response on support is not cool. Please fix that, or add more support staff in London (on this time zone) so we don't feel like we're ignored as U.K. customers.
Thankfully, @GoSquared is now back and online.
Thanks to everyone who helped get this resolved.
Next time you see the option to set or change the birthday for your business on any service online, just don't do it.