I'm a total Apple geek, and I'm not ashamed to admit it.
As soon as I had a chance, I pre-ordered the iPhone 12 Pro with the goal of receiving it on launch day.
The unbelievable strength of Apple's marketing prowess dawned on me – I didn't make a rational decision, I didn't think too much – I decided and I purchased.
My previous iPhone has been the iPhone X – and it's been a fantastic companion for three years.
To Pro or not to Pro
This was the primary area where I was surprised at how little I thought about the purchase. The iPhone 12 and 12 Pro are both incredibly good devices. And there is hardly any trade off by choosing the 12 vs the 12 Pro. It's primarily about cameras and "look and feel".
There are some software features that Apple holds back for the Pro only – primarily, one could argue the reason for some software features only being availble on the Pro is the extra 2GB of RAM. But it feels like there's increasingly a decision from Apple to use software to distinguish between models, rather than just hardware.
What I realised in this process of choosing the iPhone 12 Pro is that Apple has made me classify myself. I knew I wanted the Pro instinctively. I mentally tuned out of what the 12 could do and jumped straight to the Pro. Why? I don't know – it feels like it's hard wired into me.
This is crazy, because in many ways I love the look of the iPhone 12 – with aluminium band, and the fact it's a little lighter.
Pre-order day came and I made my purchase. Launch day came, and I eagerly anticipated the delivery.
Packaging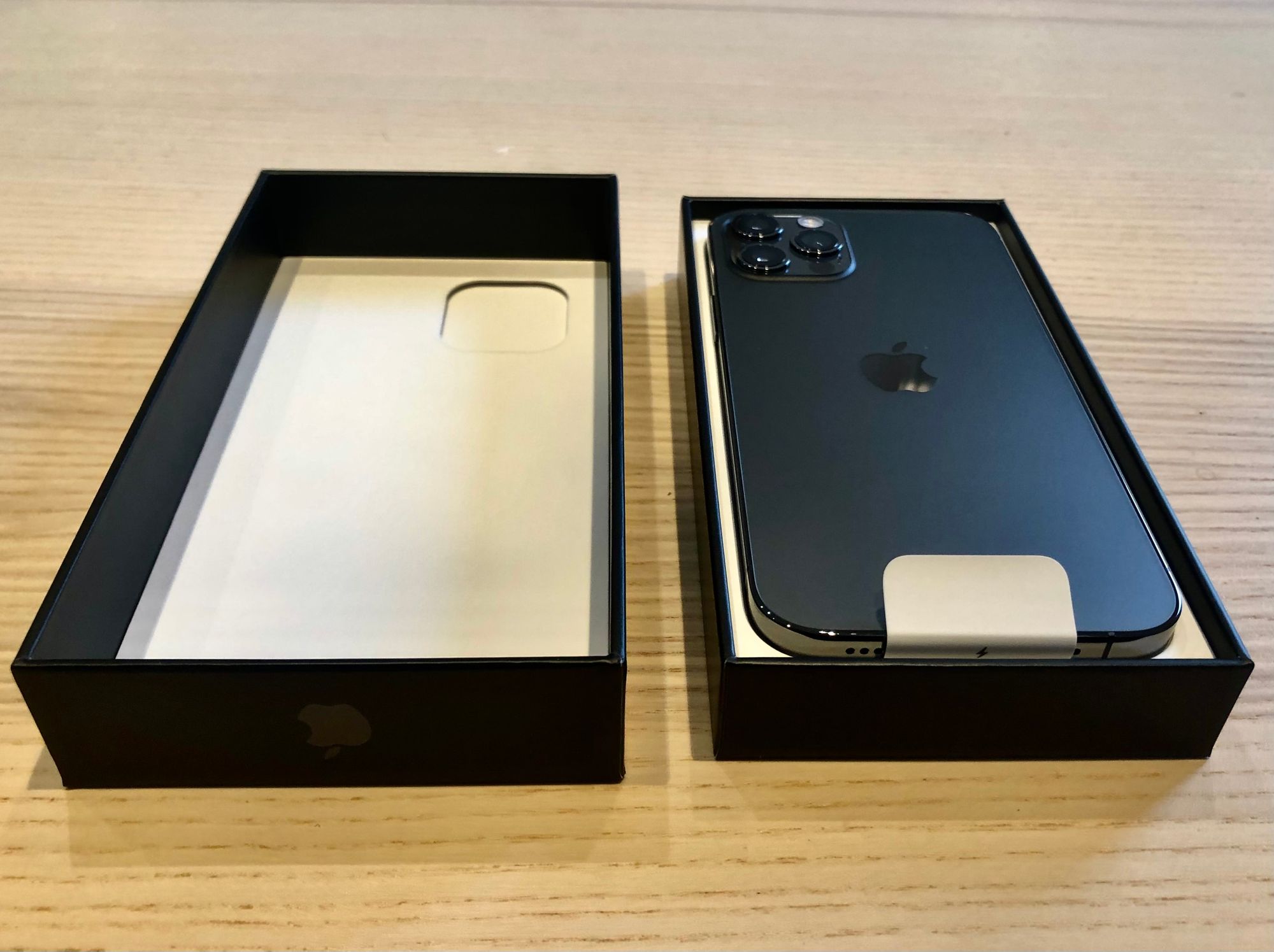 There's been some fuss around the new iPhones coming in a tiny box and Apple choosing to not include a power adaptor or headphones.
Initially my reaction was: "come on, Apple!" With regards to the lack of a charger – especially given the cable that ships in the box is a new USB-C cable rather than a traditional USB 2.0 cable. For those unaware, USB 2 ports are the kind that people started wiring into their wall sockets in the UK several years ago, somewhat shortsightedly.
In reality, the decision to remove these accessories makes a ton of sense – and I am finding it hard to complain. Smaller boxes (considerably smaller boxes – to the point where I thought the delivery driver had given me a SIM card and some O2 packaging, and not my iPhone) are good for the planet, and therefore everyone.
I have enough old Apple Lightning cables and adaptors around my house to keep me going for some time. In actual use, the lack of adaptor in the box is nowhere near as big of a deal as the now ancient switch from Dock Connector to Lightning. Everyone will be fine.
I am